Singh Fosters Senior Citizen Connections
Sophomore Thomas Singh started "Our Civitas," a program where volunteers connect with senior home residents over Zoom in order to foster a sense of community during the shelter-in-place order.
According to Singh, the name comes from the Latin root of community, "so the idea is kind of building a community."
"It started with just an idea, and I thought it could just be kind of sporadic, just me using some of my time and talking to people. But then I realized how effective it was, and how much it was helping people," said Singh.
Singh's inspiration came from prior experience volunteering at senior homes. "I think seeing how much the connections between anybody and the seniors that are living in these homes, how important that connection is for them…And so I had this idea and my dad kind of helped me, he was like yeah there's a lot you can do for people, especially in strict quarantine with that idea, so I just kind of moved forward from there," said Singh.
The senior centers Singh started with were Pacifica Senior Living and Sunrise Senior Living. He is now working on expanding the program to more senior centers and individual residents.
"I think the key was really organizing it, because if you have something that's just sporadic and you're just doing it out of the blue every once in a while, it can't get bigger. And I don't want it to turn into that, I want it to be something that's organized and something that people can count on," said Singh.
To recruit volunteers, Singh networked his classmates and friends to join the experience. "I joined the Zooms because I wanted to help Thomas out, and I also wanted to bring a little joy to the seniors during this time," said junior Alex Clare.
Clare said he was "a little timid" on his 1st Zoom, but soon realized "you don't have to say much and the seniors do most of the talking."
"It's relatively stress-free and a good way to spend some of the free time on my hands," said Clare.
"The best part of doing Zooms for me would probably be getting to hear all the stories the seniors have to tell about their life and experience," said freshman Bryn Hober. "It's so interesting to hear how different their lives were when they were my age."
"They've lived longer than us and they have experience that I don't have and they've gone through a lot of major parts of life that I haven't, and I find that really interesting," agreed Singh. "And especially because they want to know about your life, they're interested and they want to know what the next generation is doing, and then they can kind of give advice."
Singh added that the Zooms "give both parties a meaningful experience. You're learning a lot about each other and you're giving people who may not have the connection of family or even friends to talk about what's on their minds and how their day has been."
"Through these Zooms, I have really seen the power of human interaction. I can tell in these seniors voices that they are really appreciative that they have someone to talk to," said Clare."I would recommend doing [the Zooms] because it doesn't take up too much time in your day and I'm sure you have a lot of free time anyway. Just 30 minutes of talking to these seniors can make their day."
Leave a Comment
Your donation will support the student journalists of Campolindo High School's The Claw. Your contribution will allow us to produce more issues and cover our annual website hosting costs.
About the Writer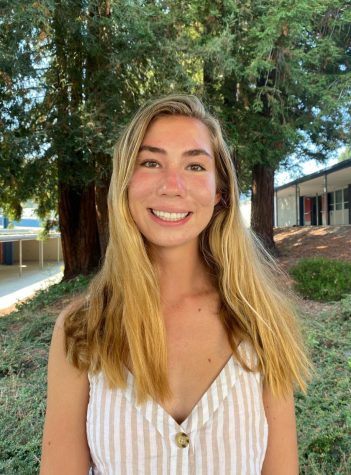 Gracie Woidat, News Editor
Senior Gracie Woidat has a passion for both working and caring for people and animals. She has found her calling by volunteering at the Lawrence Hall of...