Young Yogi Earns Instructor Certification
Certified yoga instructor senior Natalie Schlesinger offers private yoga classes for Campolindo students.
To be certified as a yoga instructor 1 must devote either 200, 300, or 500 hours (depending on the type of certification you want to achieve) learning about anatomy, teaching, and philosophies of yoga.  This is followed by a written exam, a take-home exam, and then a practical demonstration in front of a panel of representatives as a yoga studio.
After doing yoga "her whole life," Schlesinger began working towards her 200-hour certification in November 2018 at Yoga Works in Walnut Creek.
Schlesinger relied on her passion for yoga to carry her through the 6-month process.  She received her certification in May 2019.
According to Schlesinger, the workload for her certification class was equivalent to that of her school work. She was "going to school during the week and then going to yoga school on the weekends."
"It was in no way an easy process but 100% worth it," said Schlesinger.
Soon after becoming certified, Schlesinger started offering yoga classes of all-levels to fellow students.
According to senior Wyatt Scheberries, who is a frequent attendee of Schlesinger's lessons, Schlesinger is "a great teacher," because she is "understanding to all levels of yogis," and is "able to customize classes that are best suited for the student."
Senior Sam Ghisselli also thoroughly enjoyed his experience in one of Schlesinger's yoga practices as she would correct her yogis in a "very kind and courteous way and seemed very positive and happy to be teaching," making it a "very welcoming environment," which would put him "in a very positive mood."
"She was an excellent student and had a very strong Yoga practice. Natalie is an excellent Yoga teacher because she is a very caring, compassionate & personable young lady," said teacher Chris Walsh.
Although Schlesinger does charge a small fee per lesson, her main goal is to expose others to the many benefits of yoga.
"While yoga has become more mainstream, at its core it's a deeply spiritual practice that allows for people to reflect and understand themselves on levels they might not have known even existed. Whatever reason you do yoga, the fact that you're doing it at all is great," said Schlesinger.
Along with offering private lessons, this summer Schlesinger is hoping to organize a donation-based yoga class at the Orinda Library with all of the proceeds going to the soup kitchen, CityTeam, in Oakland.
About the Writer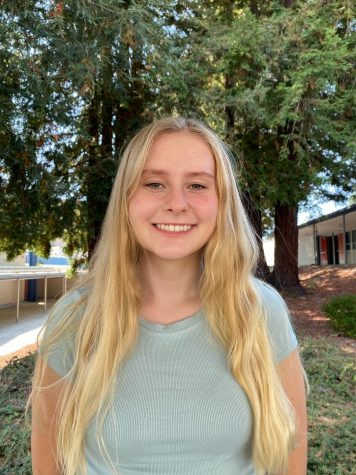 Erika Riedel, Sports Editor
Senior Erika Riedel enjoys volunteering and spreading awareness for multiple organizations. This summer, she volunteered at a number of places, including...