Family Members Enjoy Sharing Campus Experience
Senior Danielle Duffy, daughter of English teacher Tom Duffy, is not the 1st student to attend a school at which her parent works, and she certainly won't be the last. This year, she has been joined in that category by 3 freshmen.
Samantha Herzig is daughter of history teacher Lisa Herzig.
Carson Boone is the son of auto shop and tech design instructor Steve Boone.
Adrian Blumberg is the son of German teacher David Blumberg.
While administrators typically try to place students in class sections other than those taught by their parents, according to Danielle Duffy there are times when having a parent as a teacher is unavoidable.
For instance, David Blumberg is the only German teacher on campus, and that happens to be the language his son wanted to take. Luckily, the pair work well together in the classroom.  "It's great. We get along really well which makes it easy," said the elder Blumberg.
While Adrian Blumberg admits that sometimes he "gets a little bit of pressure" from peers who think that he gets special treatment, he "compares it to having a homeroom teacher," as he has a comforting and familiar space in his dad's classroom.
There are kids who would rather hide in their own locker than spend the school day with their parent. That hasn't been the case for Blumberg. "I'd say it was only awkward in the beginning, but I'd say as its gone along it's kind of like a running joke in my class, and it's one of my stronger classes because I feel so comfortable in that class, now, because it's my dad," said Adrian Blumberg. 
David Blumberg does understand that his other students might think he gives his own son a break when it comes time to grade their work.
In spite of potential issues like these, Samantha Herzig said that coming to Campolindo always felt "natural." She often hangs out with her mom in her classroom before school and at lunch.
Carson Boone added that having a parent working on campus has its advantages, as it gives him access to special privileges, like being able to keep his lunch in a refrigerator.
Sophomore Nate Rego, son of science teacher Cheryl Rego, added, "It's nice because I can eat in a room sometimes and she brings me lunch."
Danielle Duffy said that as a freshman, it was especially nice in her transition to high school and has little perks such as having "somewhere to sit when it's rainy outside" and "a constant ride to school."
"It's not as huge of a deal as everybody seems to think it is," said Samantha Herzig.
Having a parent on staff also creates a unique dynamic with other teachers.
Carson Boone said that some of his teachers are also "family-friends."
"There are a lot of teachers that knew me beforehand, and I feel like I have to be careful because I don't want them to think of me badly, and I, also, don't want them to think of my mom poorly," said Samantha Herzig. 
Nate Rego added that there isn't anything too negative about the situation. But, "if I do anything wrong, I'm going to get a quick notice form my parents," he said.
"I'm fortunate enough that most people like my dad, so I don't get very much shame about it," said Danielle Duffy. 
"I have a relationship with my father that's kind of still student-father, but at the same time student-teacher too," added Adrian Blumberg. 
About the Writer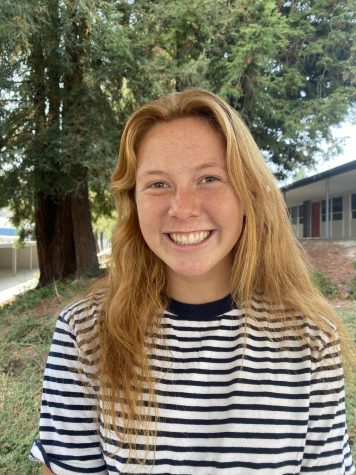 Jessica Rosiak, Editor-in-Chief
Jessica Rosiak, a senior at Campolindo, has always looked forward to exploring new places around the world. "I enjoy going to places that are unique and...