New Text Confronts Contemporary Racism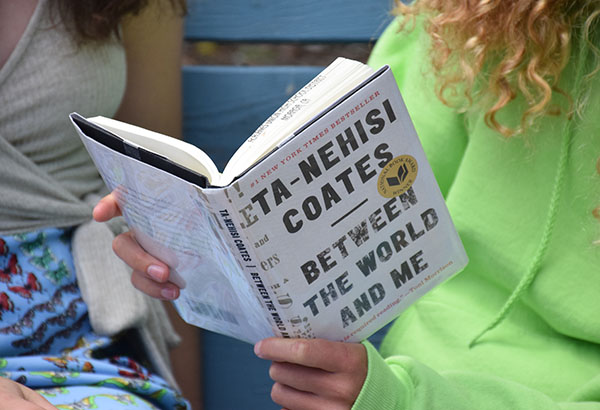 This past year the English department has integrated Between the World and Me by Ta-Nehisi Coates into the English 3 curriculum, delving into the complex issues of race and racism in the United States.
English teacher Thomas Duffy taught this book to his English 3 classes during April and May, following a curriculum designed to make students more aware of modern racism.
In addition to reading the text, Duffy had his students research specific events referenced by Coates, such as the murders of Tamir Rice, Akai Gurley, and Trayvon Martin.  Duffy also had his students watch the film The Hate U Give.
Duffy hopes that this unit will help students realize how systemic racism affects the lives of African Americans and discover ways to combat this racism in their everyday lives.
Given this unit's content, Duffy took a unique approach to grade his student's essays. "I decided to put this essay in the coursework category rather than the essay category because I was hoping the students would put more of a priority on making personal meaning of the book, film, and research, and put less emphasis on trying to figure out what they needed to do to get a high grade," he said.
Counselor Patrick Turner, who is the Black Student Union adviser and involved in various diversity activities on campus, approved of Duffy's methods for the assignment. "I think the way the assignment is structured is to create a dialog and this is 1 of the 1st steps to attacking racism," he said.
Junior Christian Markey was grateful that the school decided to teach Between the World and Me. "I thought it was very good for the school to promote a message that we don't usually hear…Mr. Duffy used his English class to let us see the bigger picture with issues about race," he said.