Ribbons Recognize Columbine Anniversary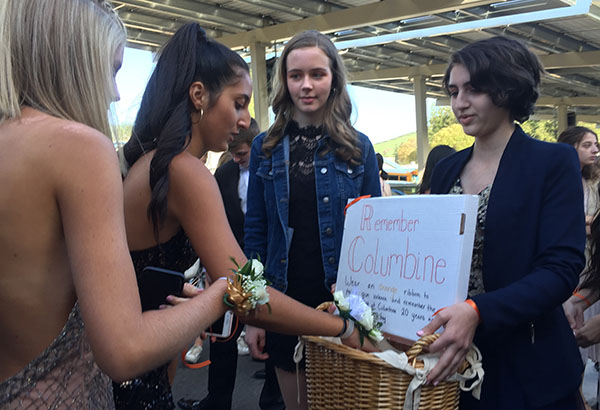 Junior Ava Sparacio handed out orange ribbons during the junior prom on April 20 at the Black Hawk Museum in recognition of the 20-year anniversary of the  the Columbine High School massacre.
Sparacio was inspired not only by the date of the prom falling on the anniversary, but also by more recent incidents. Recent threats from Columbine "obsessives" prompted the school district of the Denver suburb to shut down for several days, a sad reminder that even 20 years later gun violence on American school campuses is still a problem.
Sparacio commemorated the tragedy by encouraging prom attendees to wear ribbons around their wrists. Sparacio said, "I decided it would be nice if we could recognize it by having ribbons so it didn't disrupt prom but still acknowledge the issue."
She originally wanted to stage something more extreme. "I knew I wanted to do something and I know a lot of schools would usually do a walkout or do a protest of some sort. But since it was on a Saturday and it was our prom we couldn't do something [like] that," said Sparacio.
Sparacio's efforts were welcomed by juniors."I was definitely surprised by how many people were willing to take a ribbon because I went around with a couple of people to hand them out and everyone seemed really willing to take 1," she said.
History and Leadership teacher Lindsay Webb-Peploe said, "I thought it was a really cool student idea. It came from students, they did the work, it was great."
Office assistant Stephanie Sliwinski, who was attending college when the Columbine School Massacre occurred, said, "I thought that was a nice thing to do, but at the same time people might be hesitant to wear the ribbons because it might clash with their outfits. So I didn't see many people wearing them but I thought the sentiment was nice."
However, junior Ally Lee said, "I didn't really think that anyone hesitated to wear ribbons because I think everyone was really willing and open to supporting the cause."  
Lee also felt that "it was especially cool because I know that Columbine is suburb a lot like Moraga and it was really eye opening because you never think that something like that will happen, but it can happen."