Club Hosts Dress Drive for Children's Camp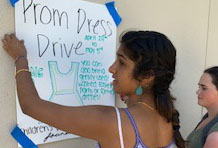 The Wonder Club is hosting a prom dress drive from April 29 through May 3 for Camp Wonder, a free summer camp for kids with skin diseases run by the Children's Skin Disease Foundation. The drive is collecting gently-used prom dresses, hair ties, jewelry, and unopened cosmetics for girls ages 6-16, which will be used at Camp Wonder's prom night.
According to club president Amanda Young, the camp's prom night is "1 of their favorite traditions" and gives kids "the chance to feel beautiful."
"The camp is really an amazing organization because they bring these kids to this safe place where they have all these doctors and dermatologists, so the kids can get the medical treatment they need but also get to do fun summer activities," said Young.
Young volunteered at Camp Wonder last summer, and said that it was "an amazing experience interacting with the kids and making them feel special."
According to club member sophomore Sahaana Rajesh, the Wonder Club is "really dedicated" to supporting the kids at Camp Wonder, and that students should donate because "many people probably have old dresses and stuff lying around, and what better way to put them to use than to donate them to make kids feel beautiful?"
Young hopes that the drive will be successful, but does not have a set goal as "the drives here seemed to have kind of ranged in how successful they are, so if we could just get as many as possible that would be great," she said.
To help their drive gain more publicity, the Wonder Club hung posters around campus advertising the drive and worked with Leadership to put the drive in the weekly announcements. "We were happy to help Amanda with her drive because it's a really great cause and will make a huge impact on the kids that receive the donation," said Leadership student sophomore Isabella Bartos.