Community Book Club Addresses Racism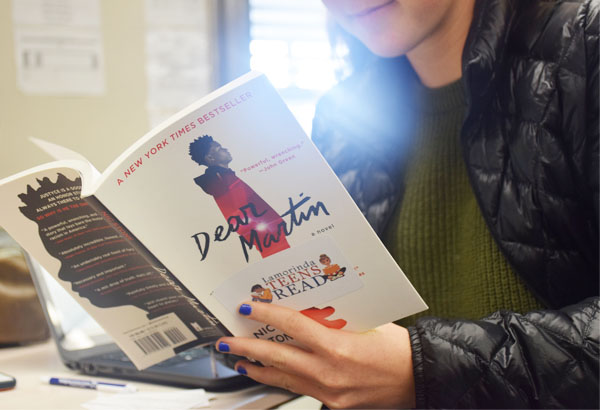 The librarians behind the Lamorinda Teens Read program have teamed up once again to organize the 2nd annual "1 Community, 1 Book" club for teens across the district. The book chosen for this year's program, which will run from February 25 to April 11, is Nic Stone's Dear Martin.
The program's organizers felt that Dear Martin was a topical choice for this year. "Myself and 6 other librarians all read it and decided that it was the best book because it deals with racism, and so I think that goes along with our diversity talks and our trying to be inclusive of everybody no matter what," said Campolindo librarian Sarah Morgan.
Dear Martin follows teenager Justyce McAllister, an African American student at a predominantly white school, who encounters daily acts of prejudice and copes with it by writing letters to Martin Luther King, Jr.
Copies of the book are available to all Lamorinda students for free from both school and community libraries while supplies last.  The book is also available for purchase at local bookstores like Orinda Books.
There will be panel discussions, workshops, and a film screening hosted at Lamorinda community libraries to supplement the reading of  the novel. In the program's "Dear Hero" writing contest, participants will be asked to write a letter to a particularly inspirational person in their lives.
Leadership's diversity chair senior Lindsay Torres feels that the program will have a positive impact on campus. "Books are a really good way to have discussions we wouldn't have otherwise," she said. Torres also plans to organize an Academy period geared around the book club and encourages members of Campolindo's various diversity clubs to participate.
ASB president senior Katie Clare plans to participate in the book club and wants others to do the same. "There's not the pressure of reading it for a class, so you can hopefully enjoy it more. I feel like books are a good way to gain a perspective that isn't your own, and if you can share that with other people, I think that's really cool," she said.