Junior Boys Institute Lawn Chair Lunch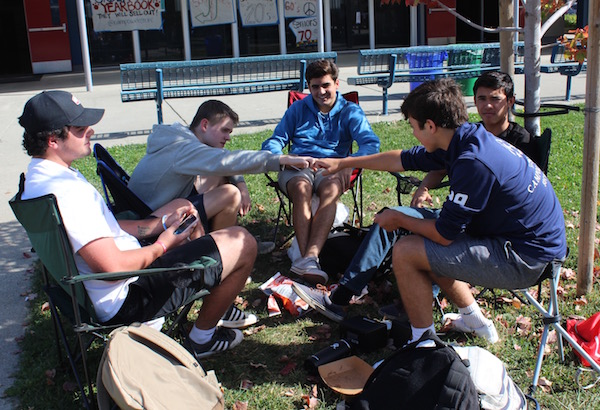 While most students flock to the picnic tables in the quad or rush to grab space on one of the benches in the courtyard areas, a small contingent of junior boys have taken to setting up their own lunchtime space with lawn chairs from home and a smart speaker for ambience.
Junior Kai De La Cruz came up with the idea after he found his usual lunch spot near the science rooms occupied. According to De La Cruz and his friends, sitting in lawn chairs is a "power play" allowing them to assert their dominance over people sitting on the ground. "It makes a statement," he said.
When they're not using them, most of the boys keep their chairs on the hallway floor under their lockers, though junior Luke Rodriguez is able to fit his chair inside his locker. "They all make fun of me for [having a smaller chair], but it fits in the locker," he said.
The lawn chair boys are now a curiosity for some of their peers. "I think the kids who sit on the lawn chairs are very angsty because they clearly feel like they're better than a table, so they bring their own chairs," said senior Bridget Ross, who sits with her friends at a table 50 feet away from the lawn chair group.
"I think it's a great idea since there are no tables open, and they have a speaker and it seems super fun," said senior Katherine Hawkins, Ross's table mate. "I would honestly join them if I wasn't a senior girl, because that'd be weird."
According to the lawn chair boys, they have the blessing of the administration. "Mr. Drury came around and said, 'I see what's happening here,' and then he pauses for like 5 seconds and says, 'and I love it,'" said De La Cruz, who added that Assistant Principal Laura Lee occasionally sits with him and his friends during the lunch period.
"My dream is to have everybody in a circle in the quad in lawn chairs," said junior Ian McBride. "We've got big things coming."