SAGA Celebrates LGBTQ+ History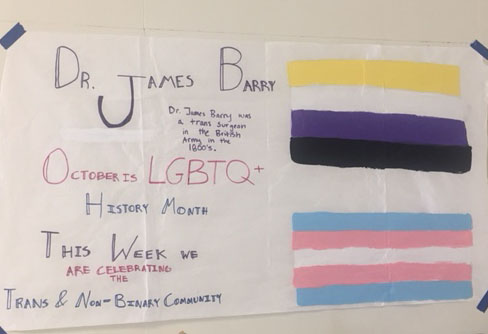 The Sexuality and Gender Alliance Club recently celebrated LGBTQ+ history month, focusing 3 weeks on women loving women, men loving men, and the trans and non-binary community.
Featured women of the 1st week were Sappho, Frida Kahlo, Eleanor Roosevelt, Ellen DeGeneres, and Hayley Kiyoko. Leonardo da Vinci, Abraham Lincoln, Alan Turing, Harvey Milk, and Freddie Mercury were the men featured. The trans and non-binary people featured were Dr. James Barry, Laverne Cox, and Marsha P. Johnson.
SAGA club organized events such as National Coming Out Day on October 11, and showing the movie "The Imitation Game" on October 18 to celebrate Alan Turing, a coder for the British in World War II who cracked the Nazi inscription code but was murdered for being gay.
Junior Max Schulz ran the movie in the library after school. He felt it helped to educate students about LGBTQ+ history. "It's important that we have awareness to show that even though someone could do something so great we need to honor the people in history that are forgotten especially if its just because they were gay. It was a very, very moving, important movie," he said.
Schulz ended up reaching his intended audience. "There was a pretty good showing. It was nice to see a lot of people coming out to learn more about Alan Turing and learning about LGBTQ+ history," he said.
Club president junior Paige Love said the purpose of the month was to shine a light on modern LGBTQ+ issues and acknowledge the community's struggles, "as well as celebrating those who have come out this year and revealing some significant and often unknown LGBTQ+ figures," she said.
Vice President Maddie House said the celebration was possible due to the growing membership in the club. "But now that we consistently have more than 25 people at meetings, we are able to accomplish so much more," she said.
Schulz noted that the posters were especially good at spreading important LGBTQ+ historical figures. Now, "a lot of people are asking questions and people are interested in finding out more," he said.