Cheer Coach Fills Finance Position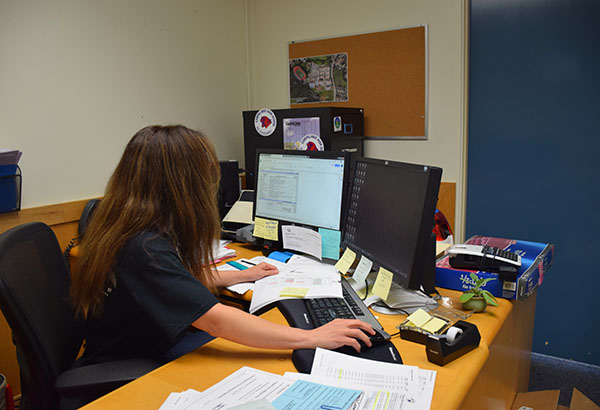 Jannine Takahashi-Crow, who has coached the cheerleading team for 3 years, is now the new Finance Technician at Campolindo. Her familiarity with students and faculty as the cheer coach was one factor in her decision to apply for the office staff position.
Takahashi-Crow has previous experience as an accountant. "My kids are currently in high school at Las Lomas and I thought I would get back into the workforce full time. So this job opened up and it's in my wheelhouse of knowledge and I love the staff here. So I applied and I got the job," she said.
Her position entails keeping track of finances associated with purchasing new equipment needed by various departments, clubs and teams.  According to Takahashi-Crow, "staff ask for items with requisitions and I pass them on to the district to get a purchase order and to be purchased."
Takahashi-Crow manages all associated student body accounts, helping to keep track of their budgets, especially for school dances.
Cheerleading co-captain junior Bella Brocato believes that having her coach on campus will benefit the cheer team, and help to hold her teammates accountable to various rules. "Having her on the campus is good I believe, 'cause a lot of the girls like last year [sic] didn't wear their uniforms. So I'm glad she's on campus."
Brocato's co-captain, junior Danielle Duffy, thinks that having their coach on campus is a positive. "I think it's really nice because we can always communicate with her and she is always there to answer questions," she said.
Takahashi-Crow is excited to be more involved in the high school community. She said, "It is a little hectic, there's just a lot of components to this job, a lot of different people will ask you for different things. But I've always enjoyed working at the high school as a cheer coach and I like the atmosphere."