Instagram Account Celebrates Campus Supervisor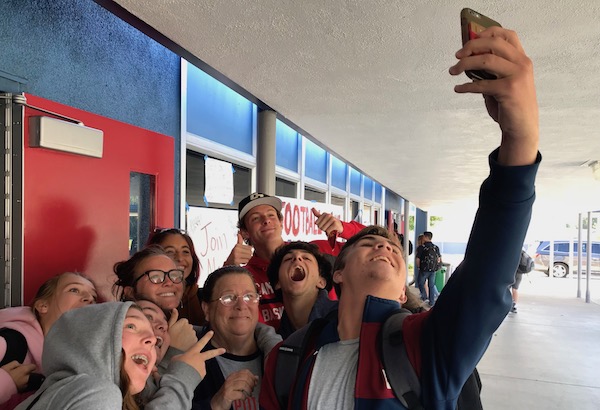 Leadership officer and spirit commissioner Tommy Raftis has created the Instagram account @mornings_with_susie in order to feature daily selfies of himself posing with Campolindo's campus supervisor, Susie Frederich.  The account was created on September 6.
The account has accumulated over 200 followers since its debut, most of whom are Campolindo students. "I don't know where I came up with it honestly. I just kinda went up to Susie and asked her to take a selfie," said Raftis. "I had to go to Mr. Walker and ask him before I made the account, and he's like, 'As long as Susie's okay with it, go for it.'"
Fredrich approved of the account after talking it over with Walker. She said that "if it was used for good and not evil then that was fine, it's a positive thing."
"When I first told her about it, she's like, 'Yeah, let's do it," added Raftis. "The main idea of it is to show how much we love Susie– because everyone loves Susie– and whether we know it or not, she's a huge part of our school spirit, and we're just trying to keep the spirit up."
After the Instagram profile was created, Frederich began to receive feedback about her social media features from alumni. "Tommy started taking pictures of me and then I started getting texts from people who have graduated saying, 'Suz! I told you they liked you!'" she said.
Raftis said he puts thought into his posts in order to provide original content each day. "I try to get a bunch of different people at brunch to be in the pictures, and I try to switch up the captions just to highlight different parts of things that are going on at school," he said.
Raftis is not the only student who is grateful for Frederich's work on campus. "Susie, I love you, you do so much for us, and words can't describe how much we all are thankful for you," said senior Luka Brown.
"Students like [Brown] are the reason we keep 'Mornings With Susie' going," explained Raftis.
Frederich added that she enjoys spending her morning taking pictures with Tommy "as long as he's not late for class."