Tourette's Victim Preaches Tolerance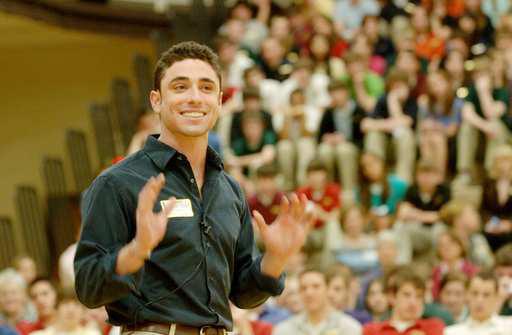 Motivational speaker Marc Elliot addressed the student body during Tolerance Week, encouraging all students to understand and respect people's differences.  Elliot has been inspiring audiences across the country by sharing his life story in order to convey the value of tolerance and the attitudes and behaviors that allow it to prosper.
Senior Ashley McNally felt that Elliot was a great speaker and role model:  "Through his life challenges, he stayed strong and now influences thousands of students to become more tolerant."
Senior Julia Curiel was impressed by Marc Elliot's ability "to maintain a balance of humor and solemnity that kept his audience engaged without straying from the seriousness of the issue at hand."  "He spoke honestly and openly, admitting that he is not by any means perfect," stated Curiel.  "His sense of humor made him relatable to our age group, and I was not afraid to go up and talk to him before returning to class."
As a young man afflicted with Tourette's Syndrome, Elliot faces many daily challenges:  "Thankfully, my challenges are really no different than anyone else's.  Now that I have really learned to accept myself, I find that the days are much more joyful.  I can overcome challenges by remembering that everyone is different and we all have our own battles that we fight every day.  Keeping a positive attitude is very important."
Junior Holly Hilton was impressed with Elliot's powerful public speaking skills and his success in overcoming his disability.  Hilton thought that Elliot's message was important because it teaches people not to judge others and not to turn those judgements into harmful words or actions.  "People should not impose their opinions on the lives of others and should not make hurtful comments because we should all be able to choose how we live without being judged," emphasized Hilton.
Elliot's message was simple:  Live and let live.  Curiel explained, "He didn't ask that we go against our human tendency of being judgmental as other presenters have suggested in the past, but rather that we simply be tolerant of each other.  I was glad that he brought up the fact that 'tolerance' is the bare minimum of an ideal relationship, when 'acceptance' is far above that."
"I loved every minute.  I really enjoyed meeting the students after the speech and getting to talk with them in a much more intimate setting.  It is always great to hear their stories and hear how they interpret my message," said Elliot of his experience at Campolindo.
Elliot hopes that the students enjoyed his presentation and that they can apply his message to their lives.  "The students did come up to me after the presentation and said that they really enjoyed the speech," commented Elliot.  "I really enjoyed reading all the posts on my Facebook wall after the speech, and I encourage everyone to please keep in touch with me."
Senior Jane Macy believed that Elliot's message was heard by students, as she observed that "Live and let live" is catching on.  Curiel agrees that Elliot's message did not fall on deaf ears:  "His presentation was funny, simple, and realistic enough that his message will definitely be remembered by students."