Four-Square Highlights Mix-It-Up Week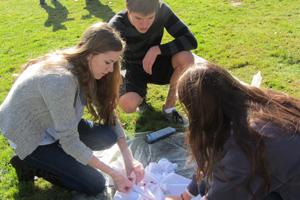 Leadership hosted the second day of "Mix It Up Week" on Tuesday.  Activities included tye-dying shirts, making friendship bracelets, and playing Twister.
Junior class president Ryan Gannett said, "Since it's National Mix It Up month, we are trying to get the whole school to participate as a community, since the last time we did this was two years ago."
Commissioners of Cultural Diversity Devon Bruzzone and Juliette Eyl were also trying to raise awareness for anti-homophobia month through the tie dying activity. "The symbol of gay awareness is a rainbow so we are trying to get people to tie dye their shirts and wear them on Friday," said Bruzzone.
So far, the activities have been going well, but Leadership was trying to get more people to participate. Junior Sophie Leksan thought that these activities were "super fun" and complimented Leadership for having "lots of creative ideas." Her favorite activity was four square. She would like to have more of these activities occurring throughout the year.
According to Commissioner of Assemblies Krissy Lukins, hosting Mix It Up Week is a definite option for later on in the year, as Leadership is trying to fit in more activities involving the whole school.