FLASH-BACK: 90's TV Style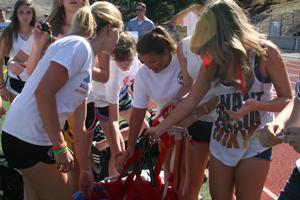 Homecoming is identified as a culmination of new-school-year enthusiasm, bringing to mind football games, rallies, dances, Powderpuff and… Pokémon?
This year, hallways were decorated according to a theme of 90s cartoons, and a Thursday carnival promised to augment the week's festivities with video games, costumes, inflatables and live music.
Leadership bedeck halls with posters and streamers. To enhance the merry mood, the class officers tailored several halls to match each grade's specific  theme: Pokéball balloons in A-hall, foliage for the Wild Thornberrys in C-hall, and diapers for Freshmen Rugrats in B-hall.
David Reynolds, Commissioner of Athletics, spent nearly 3 hours adorning G Hall with Senior-themed Rocket Power posters. "It was a great group activity," he said.
The carnival featured—for the first time in Campo history—a live student band, Downstairs Mix-Up. The band  played a medley of "random songs from a lot of genres," according to senior guitarist Matt Haley. Other members of the all-senior band included bassist Patrick Espe, drummer Athan Gousious, and singer Ben Thomas. They have played in the talent show for several years and look to pursue the music scene beyond their high school careers.
Each class provided a specific dish for the carnival: freshmen sold bagels; sophomores, Panda Express; juniors, Jamba Juice; and seniors, offered Top Dog. Video games played in a large truck attracted many gamers on campus with a chance to flaunt their skills. Unlike the simple jumpie-houses of previous years, leadership brought in a giant jumpie-slide and an obstacle course for students to romp and tumble in, as well as two human-sized hamster balls.
The Homecoming Rally held many surprises; senior Layth Ramatala, ASB President, spoke of the spirit comissioners's preparations: "It seems pretty secret. They're keeping pretty much to themselves." This morning, the leadership class tied hundreds of balloons to all the cars in the back lot, and decorated the sidewalk with a giant balloon arch.
After the rally, students will have the opportunity to win a cake by participating in the cake walk or the ultra-competitive game of musical chairs in the Quad.