Boys', Girls' Cross Country Land State Podium Spots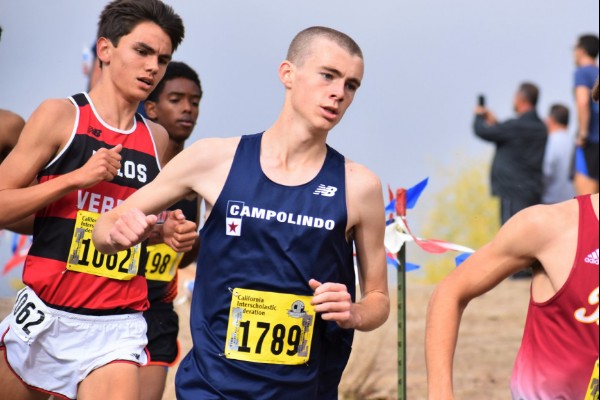 After more than a week of indoor practices and a delayed NCS meet due to unhealthy air quality, both the boys' and girls' cross country squads landed podium spots at the CIF State Championships at Fresno's Woodward Park on November 24.
The boys team was 1st to race, taking home 2nd place behind the pre-meet favorite.
The girls team defied previously published rankings to finish 3rd.  The girls' squad had been ranked 7th heading into the meet, and had not run a race since the Diablo Athletic League championships on November 3.  The long layoff was the result of the cancelation of the NCS championships mid-way through competition on November 20 due to poor air quality.
The boys, who had raced at NCS and won their 5th section title in the last 6 years, finished the state championship race with 94 points,  just 11 points behind top ranked Ridgeview high school's 83.
NCS rival Maria Carillo finished 100 points behind the Cougar boys in 5th place.
The girl's team finished the state meet race with a score of 167 points, which placed them behind 2nd-place Palos Verdes of the Southern Section and 1st-place Vista Del Lago of the San Joaquin Section. "Getting 3rd was so crazy because I think we were ranked 7th. A lot of people counted us out, and we just proved that this is why we're here and this is what all of that hard work is for," said junior harrier Ellie Guthrie. 
According to head coach Tim Hunter, the boy's 2nd place finish was expected. "1 of the reasons they ran so well was because everyone knew where they were at, so there were no surprises there," said Hunter.
Campolindo senior Teddy Buckley overtook Ridgeview's number 1 runner near the finish line.
According to sophomore team member Owen Lekki, the boys "had the best performance from any Campo boys cross country team ever." The scoring runners had a combined time of 80:16, 2 minutes and 40 seconds faster than the squad's time from last year's state meet.
Another noteworthy contributor was sophomore Dylan Gunn, who made a comeback from a long-lasting injury just a few weeks before to finish 2nd for the cougars with a time of 15:49.
On the girl's team, sophomore Sophie Webster's performance "definitely stood out" to coaches and teammates. Despite being the varsity girls' 4th runner during most of the regular season, Webster emerged as the number 1 runner through the 2nd mile and ended up finishing as the 2nd runner behind junior Paloma Hancock.
Webster said that her race plan was to simply "run the 1st mile really hard, and hope I can keep up for the next 2 miles." The plan was a risk that Webster said she was willing to take because she wanted to leave it all on the course.
Freshman Sarah Berten finished 4th for Cougars with a time of 19:57 in her state championship debut. Junior Alicia Hober set a personal record on the Woodward 5k course at 19:03 to be the team's 3rd finisher. All 5 scorers finished under 20 minutes.
According to Guthrie and Webster, 1 of the toughest aspects going into the race was having to "go in blind" after their NCS race was canceled due to poor air quality. "It was a little more difficult because we didn't know a whole lot about the other teams' individual runners, so it was hard to figure who to target or who to match up with," said Webster.
The girls are already eyeing a higher podium spot for next year, and boys are considering a possible 1st place finish. "The guys team has never won a state championship, so next year might be the year," said Hunter. "Our guys team has a lot of depth, with freshmen Marco Chao, Sam Smith, and Fin Jordan showing a lot of talent, and then half a dozen more guys on top of that all competing for 7 spots which should make it a fun season."