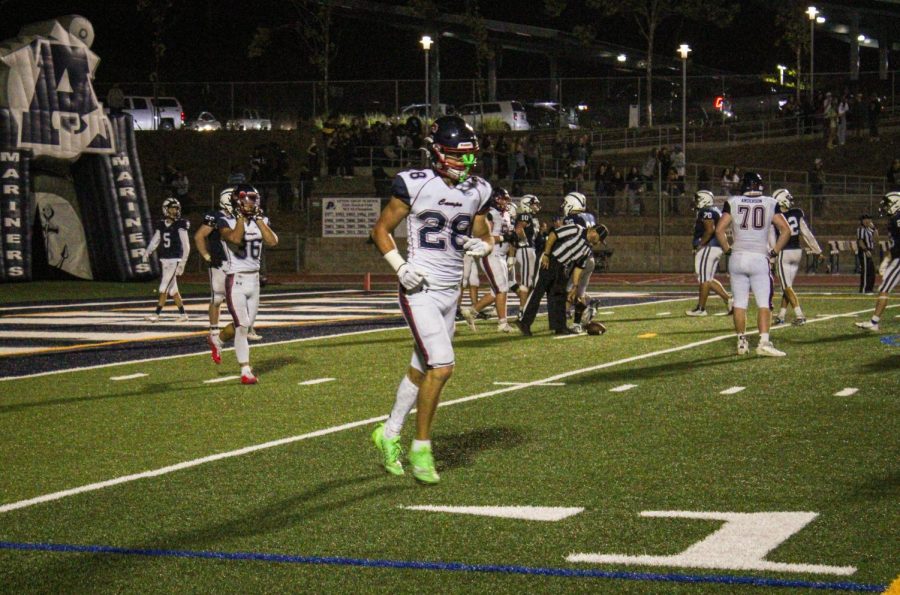 Erin McDonald
Campolindo varsity football won against Aptos High School on September 2 with a final score of 30-22. After a previous loss last year of 0-49 at home, the team went into this game hoping to redeem themselves and their departed seniors.
Wide receiver senior Robbie Mascheroni said, "Going into this game we were very determined because last year we lost so badly. This game meant a lot to us because last year the seniors were pretty bummed about how we lost, so we had to go into it with a positive mindset and a stronger defensive line."
Campo started off the game strong with a blocked punt safety recovered by Aptos and tackled by linebacker senior Griffin Bartis that gained them a 2 point lead in the beginning of the 1st quarter. Aptos followed close behind with a touchdown, leaving the score at the end of the 1st quarter 2-7.
Cougars continued to struggle into the 2nd quarter, getting 1 touchdown but not maintaining a lead due to a previous Aptos touchdown. They ended the 1st half with a score of 9-14.
Head football coach Kevin Macy said, "The first 3 possessions we had ended in interceptions, but after that they couldn't stop us the rest of the way."
After a rocky 1st half, the Cougars started the 2nd half with a newfound sense of motivation. The team managed to score a touchdown near the middle of the 3rd quarter, gaining the lead once again. Aptos was also able to gain a touchdown, which brought the score to 16-22 at the end of the 3rd quarter.
"The 2nd half ended up being our strength. We didn't realize we were going to get that much out of our running game against this team, and in the 2nd half it was [wide receiver senior] Lucas Concepcion and [wide receiver senior] Brendan Comerford who had big 2nd halves running the ball," said Macy.
Campo had the most success in the 4th quarter of the game, gaining 2 touchdowns that sealed the deal for their redemption. The team's defensive line was on the top of their game and blocked Aptos from scoring in the final quarter, resulting in an ultimate score of 30-22.
The team credited their win to, "this year everyone tried to stay in 1 position and trusted our technique. The week prior we worked on tackling the whole time and just worked on staying where you were and making sure you were doing your job." said cornerback and receiver junior Tim Daugherty.
Campo currently is ranked 1st in their league and is scheduled to play San Leandro on September 16.