NCS or Bust for Boys' Polo
"Win or go home.  It's win NCS Championship or bust,"  boys' varsity water polo coaches Anton Sapozhnikov and Miles Price said of their team's goals for the 2015 fall water polo season.
Last year, the Cougars advanced to the NCS finals, but lost to Miramonte. "We had a few shots that didn't go in and they had some shots that went in," said Price. "The loss should make our guys hungry, but I don't even know if they remember it. But we'll remind them."
Referring to the contested outcome of the 2014 NCS semi-final match that had the Cougars waiting for an NCS ruling on their appeal, Sapozhnikov added, "There was just a lot of emotion running through these guys especially with what happened before the game started and with not knowing if we were in the Championship or not, so the night before we didn't really have time to practice because we didn't even know if we were going to make that game. We were automatically at a small disadvantage."
Junior driver and counterattacker Wayne Hawkins said defeating Acalanes and Miramonte is important, but the NCS title, no matter who they must defeat to achieve it, is definitely the top priority.
Sophomore Tommy Hawkins, who is also on varsity this year, pointed out that while the Cougars may be looking at every opponent the same way, their opponents may be particularly motivated to knock them off: "To beat Acalanes is a big thing because they kind of have a grudge on us since last year."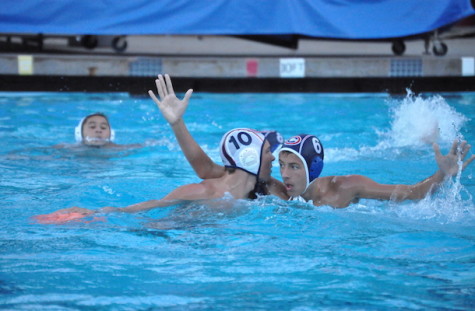 While competition is limited to the pool, team spirit continues on dry land, according to sophomore junior varsity driver Cole Lauritzen.  Of his teammates, Lauritzen said, "Getting to see them at school, exchanging glances in the hall, and just having a group of guys to depend on and playing a sport that's fun."
Echoing that tune, Wayne Hawkins said his favorite part is "having the respect of being a member of the varsity team. And I get to be with all my friends."
Price respects the caliber of individual that comes out for his sport: "They're very high-character individuals, they're all good students and they're just high-quality guys."
The team practiced three days a week during the summer months, from the beginning of June until school started.  The team's hardest practices took place over one week, commonly referred to as "hell week," from Monday, August 17 to Friday, August 22 with two workouts each.
"We're kind of gearing up for the season, doing a lot of drills, and we have our first scrimmage this Thursday," said Lauritzen.
"We play at a very difficult schedule, but an undefeated season in league and to win NCS, that would be unreal.  We obviously have the talent, we just need our guys to start carrying themselves like they're the best," said Price.