Changes in Perspective at Heart of Traveling
I was incredibly fortunate to grow up living overseas in Asia, where I began traveling before I could walk. As I've experienced different cultures in countries across Asia, Australia, South America, it has become more obvious to me the importance of traveling and the impact it has on my life.
Traveling to various continents is an extremely educational exercise, providing a whole new perspective on the world. Although during the pandemic we shouldn't be flying overseas, when it is safe to do so, hopefully, we all will have the desire to travel beyond our homes and throw ourselves into a new experience.
Although I understand that not everyone is able to travel internationally from such a young age as I did, what I've learned from traveling to over 20 different countries is that if provided the opportunity in our lives, we must take any chance we have to explore new places and see more of the world.
If I had said no to building houses in Cambodia, spending a day in a local village in Thailand, or spending the night sleeping on a train I would've missed out on so many amazing and unforgettable experiences that I will remember forever. We can make some of our fondest memories exploring the world.
According to Claim Compass, staying inside our comfort zone within our own country is not the greatest for developing a global perspective. In fact, only being aware of what's going on in our own countries "narrows your mind to a unique and biased perspective."
It is unfortunate that there are people that feel that traveling is simply a waste of time and money, and others perceived it as a temporary enjoyment that doesn't last. However, in reality, experiencing new cultures leaves an impact on your perspective whilst creating new memories.
"Instead of building walls and barriers to understanding, we should be searching for common ground, celebrating our differences and encouraging humankind to be more tolerant of each other," said journalist Jonathan Look Jr., according to Forbes.
There are many aspects to traveling that make it so important, 1 being the way that it can lead you to be more open-minded. Living in Lamorinda, we are mostly surrounded by people of our similar economic class, race, and even characteristics. We live in a bubble and do not experience much variation in our day to day lives. For example, we are never faced with seeing extreme poverty in other countries, contributing to our small-mindedness. In our society, owning a cheap piece of clothing or a little toy isn't seen as much. For some people, even that $5 tank top is an unattainable luxury.
I'm sure we all dream of taking that dream vacation ever since COVID-19 restricted where we could go and the things we could do, so I hope that when the pandemic is over, we all will take the 1st step in traveling abroad.
Leave a Comment
Your donation will support the student journalists of Campolindo High School's The Claw. Your contribution will allow us to produce more issues and cover our annual website hosting costs.
About the Writer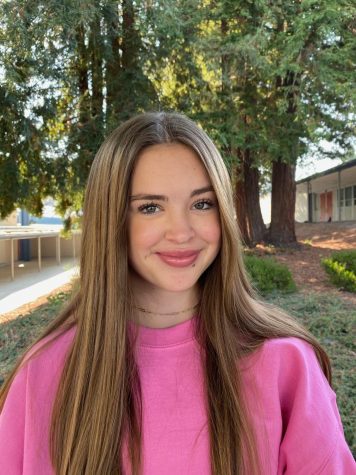 Ella Hack, Staff Writer
Sophomore Ella Hack has embraced change throughout her whole life. Whether through sports or the country she's living in, Hack enjoys new activities...