AP Testing Begins In-Person and Online
The finish line of a hectic school year is in sight, as well as the several week period of Advanced Placement (AP) exams for Campolindo students. Slightly different from the exams of the year prior, which were entirely online and modified in content, the 2021 tests will be taken either in person or online and cover all mandatory material.
Typically several hours in length, students have expressed some concerns in regards to the semi-return to the pre-COVID AP format. Junior and 1st time in-person AP test-taker Ella Heydenfelt said, "I am very scared about the AP tests because the entire year I have taken all of my tests online and at home, but now I am expected to take them on paper at school for 3 hours each."
"I do think that the AP folks are being a little unfair in that they are making the tests full tests. I think it should have been an abridged test again because there has been very uneven access to school," said AP Comparative Government teacher Dino Petrocco. "The students that are taking the tests online clearly have an advantage over the students taking tests in person."
By this, Petrocco meant that online test-takers are not as monitored by proctors nor face the same early wake up calls as in-person students.
However, online test-takers will not be able to move back to previous questions for "security reasons," according to the College Board's website: "If you skip ahead, you won't be able to go back."
With APs being later in May than normal years, many teachers are capitalizing on the extra time to squeeze in some review.
"Many of us have been taking tests at home for so long it will be a shock to the system," said senior Leila Stoll. "I think it's been helpful that the teachers have been giving us in-class study material, for example in [AP Environmental Science] and [AP Comparative Government], the teachers have been giving us material as a part of the class for points. It serves as motivation to keep studying."
"As a senior, the stress level is a lot lower than other years," added senior Emma Dillard. "But I'm a little nervous about memorization. Teachers have let us have notes and cheat sheets next to us the whole year."
Students taking online exams should ensure that they have downloaded the digital testing application from the College Board at cb.org/ap2021examapp.
Leave a Comment
Your donation will support the student journalists of Campolindo High School's The Claw. Your contribution will allow us to produce more issues and cover our annual website hosting costs.
About the Contributor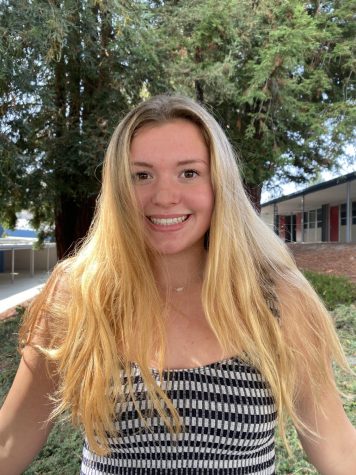 Nicole Kennedy, Opinion Editor
Senior Nicole Kennedy has played volleyball for 8 years and is currently on Campolindo's varsity team. She also played club volleyball at Red Rock East...