Scouts Earn Gold Award for Exceptional Service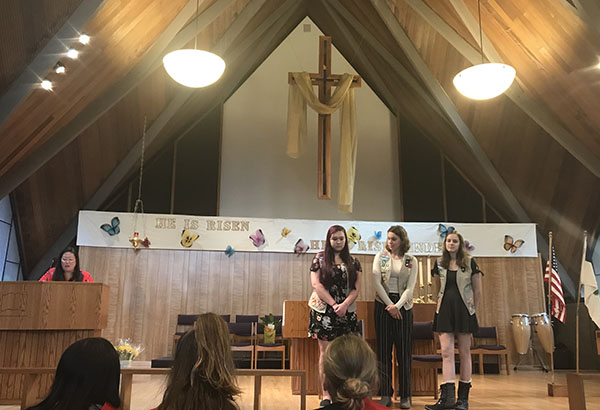 3 senior girl scouts, Sabrina Fojut, Mina Boozarpour, and Lillian Heutmaker, were honored with the prestigious Gold Award for community service on May 17.
The Gold Award project is the most difficult and time-consuming challenge in the Girl Scouts, and the 3 each put in over 80 hours to earn the honor.
In order to obtain the award, each girl devised a plan intended to help tackle an issue that affects their community, working in tandem with a Girl Scout council to continue with their projects and asking community members for donations to actualize their projects.
Fojut's project was a Bike Safety Rodeo. After being struck by a car in 2016 while riding her bike, she realized that children in the community were lacking in their bike safety skills. With the help of local bike shops, she was able to set up an after-school bike safety class at her old elementary school, Los Perales.
"It was very rewarding," said Fojut. "Working all those hours and executing the project definitely taught me about patience and responsibility."
For Boozarpour, she achieved her award by creating a program that focused on improving education. Her goal was to fight the lack of education that homeless youth experience in the Bay Area. Each packet had worksheets and learning supplies that matched California's common core standards. "By creating these packets, educators to homeless children can have improved instructional support for their students," said Boozarpour.
Heutmaker's program was called Theatre for Free, and although she was unable to attend the ceremony, she was still recognized for her project. By directing free drama classes for her local church, Heutmaker gave children the opportunity to be in theatre productions without the expensive costs of most community drama programs.
According to Moraga Mayor Roger Wykle, who was present at the ceremony, the service projects were "hard work, but beneficial and rewarding along the way."