Workshop Addresses Troubling Vape Trend
Emily Justice, a manager at the Contra Costa County Office of Education hosted a Tobacco Use Prevention Education Program (TUPE) workshop to educate parents on teen vaping in the library on April 11.
TUPE aims to reduce tobacco use among adolescents in the 18 school districts of the county.
In her presentation, Justice shared information about the various brands of vape pens, health effects, and resources. Parents engaged in a discussion with Justice and Principal John Walker at the end of the workshop.
Justice explained how the "vape epidemic" has gained tremendous growth in such a small amount of time. "When I first started out 15 years ago, the need for tobacco prevention groups decreased drastically, partly because of the stigma with cigarettes, and we were like 'this is great! Young people know the harms now,' but then this new product came along. Just from 2013 to 2014, we saw the rate of e-cig [Electronic cigarette] use triple," said Justice.
Kristen O'Meara, the Wellness Center manager, coordinated with Justice to host the presentation.  She believes that educating both parents and teens are vital for families to make healthy decisions regarding vaping. "The more education we all receive, the better we are off," said O'Meara.
To Justice, this face-to-face presentation provided the most effective method for parent education. "You can definitely go on your computer and find this information, but it's different to be able to come in and ask questions in person and also hear from a school administrator who can talk about what is happening in schools currently," she said.
Justice also presented parents with statistics of e-cig use in the Acalanes District. According to self-reported school surveys, 11% of freshmen and 25% of juniors already vape on a consistent basis.
"It was disconcerting and upsetting," said O'Meara. "However, because it has become such a popular activity to do, it also wasn't really surprising for me that the numbers are high."
Parents also brought up questions of accessibility for students. According to Justice, most teens are still buying their e-cigs from stores where age policies are not as strict as they should be. Within just a 5-mile radius of Campolindo, there are 15 locations that sell vape products.
Sophomore Olivia Shin, who was working the lighting booth, was able to listen in on the presentation. "I learned a lot about how the effects of vaping is actually a lot worse than it seems and I thought that it was insane how teens are unknowingly using it. I know that sophomores are already being taught about vaping in health class, but I think that it is way too late for students to finally get in contact with this information since they might already be vaping and unwilling to quit."
About the Writer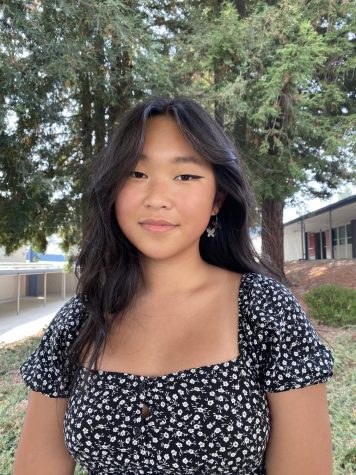 Mindy Luo, Visual Media Editor
Senior Mindy Luo has spent her high school career utilizing her artistic skills as a vehicle for her commitment to various social justice movements.

Luo...