County Worker Teaches Sewer Science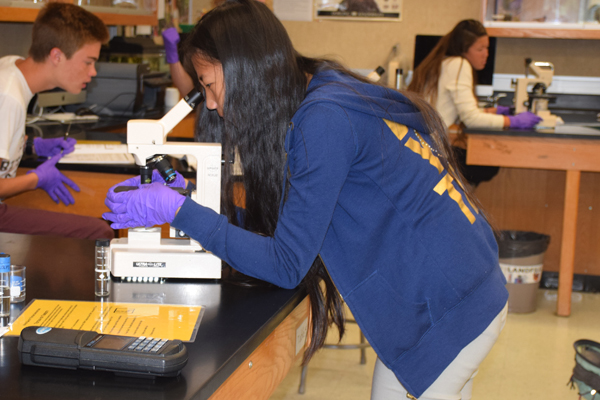 Biology classes hosted guest teacher Doug Bleakly from the Contra Costa water treatment plant to learn about water processing, and tested their own water samples for pH, turbidity, oxygen demand, and ammonia in labs from May 8-13.
Freshman Biology student Kellen Clancy said, "It is important to our society… The most interesting part was learning about how many gallons go through the local area every day to the treatment plant." According to the plant, around 32 million gallons of water are processed each day.
Clancy said the class found the labs boring, except on Wednesday when they used microscopes to look for microscopic organisms in the "activated sludge" state.
Freshman Samuel Morasch said, "It was not supposed to be fun, but a little interesting." He found the water cycle to be the most tiring, and although he saw plenty of bacteria on Wednesday, he didn't see any of the water bears, a type of water organism in the shape of a bear, that he was searching for.
This was Bleakly's first experience teaching a class this year. "In particular I've enjoyed the variety, as I've moved among about 60 classes at six different high schools. Each school, each teacher, and each class has been different in ways that have required me to continually make adjustments to content and schedules, which has kept me on my toes.  I've especially enjoyed what I'm doing when I establish some sort of mysterious, magical rapport with the students, as was the case at Campolindo," he said.
Bleakly is spreading the concept of "Sewer Science" to high schools around the Bay Area. "Everything is connected.  I'm rather big-picture and holistic in the sense of wanting to connect Sewer Science to the larger water cycle, while bringing in all sorts of other topics that touch on the subject – geology, the history of life on earth, ocean acidification, the history of the Environmental Movement in the US, and water treatment technologies of the Ancient World," said Bleakly.
As for Campolindo and other high schools he visited, Bleakly said, "From what I can tell, every class I've been in has come away knowing more about wastewater than they knew going in."