Science Club Beats Albany for National Competition Berth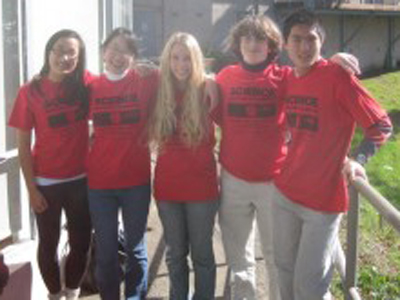 For the first time in its four years of competition, the Science Club will be advancing to the National Competition in Washington D.C. The team defeated Acalanes, who placed third, and Albany, last year's champion who placed second, to earn their ticket to the April championships.
Chemistry teacher Rachel Eaton said, "We're feeling confident, but we have a lot of work to do between now and then."
During the Science Bowl, which was held in Berkeley, Campo faced Albany three times. The first time, Albany trounced the Cougars; but the second time around, during the semi finals, Campo rallied for the win. Campo faced Albany during the final round as well, repeating their semi final feat. Club captain Marie Lu said "We were more calm about it. We just focused in on the buzzing in."
"I'm not sure if anybody thought Campo could beat them twice in a row," said Eaton. Sophomore Christina Beck said of the victory, "After the first time, we were just awestruck. We couldn't believe it and we were jumping up and down because we thought we had won! But then we found out we had to play them again and we were sort of saying to ourselves, 'No way we're going to beat them again. Oh well, at least we got second place.' but then we actually beat them the second time. It was unbelievable!"
The science bowl is a Jeopardy-like quiz competition on math and science, where students are given random questions from across all fields of math or science including biology, chemistry, and physics. Students "buzz in," and if correct, are given the opportunity to answer a bonus question. Each team is composed of 5 people, with one alternate that can switch in and out. This year's science club team was composed of Megan Zhu, Kevin Peng, Ryan Smolkin, Beck and Lu.
The members of the club met over the summer every week at the Lafayette Library to review possible questions for the science bowl. The club worked closely with Acalanes, organizing scrimmages to test their knowledge. Kevin Peng said, "Scrimmages are a good way to practice. You get familiar with buzzing in."
Eaton added, "They did okay at the scrimmages, but when they were under the pressure of the real thing they rose to the challenge. They really dug in and fought really hard in the final rounds."