Three Kings Continues Christian Celebration into New Year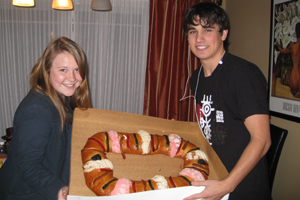 For most Americans, Christmas marks the end of the holiday season, but recent activities in Spanish classes taught students about Christian traditions that continue into the new year.
In both Charlotte Taylor and Concha Martinez's classes, Spanish students celebrated the visit of the Three Kings by writing letters to them, describing the good the students did in 2011. This tradition is not unlike that of families that encourage children to write a letter to Santa.  In both instances, the sender anticipates receiving gifts for their good behavior.
Martinez also celebrates this tradition in her personal life. This year, she held a party at her house for close friends and family. "We have a traditional rosca, a sweet cake with chocolate and fruta confitada, candied fruit, on top. Inside is a plastic baby Jesus, and whoever has the slice with the baby has to host next year's celebration," she said.
However, there are many variations on this tradition. In Mexico, it is typical that the person who receives the baby has to host a dinner in February. Junior Antonio Betts and his family place two babies in the rosca. "Last year I got both babies, so I had to pay for all the parties within the year because of it, and we have a lot of parties."
Freshman Kayla Nason and her family celebrate this holiday in their own way. "We thank people who have helped us by giving them gifts. When I was little, I got three little gifts the day after the kings' visit. I also fed the kings' camels by leaving out hay in a shoebox the night before," she said.
Betts thought the class celebrations were a "good opportunity to learn about other people's cultures, especially since America is practically made up of immigrants."
The visit of the three kings corresponds with the Christian tradition of Epiphany on January 6, during which the kings visit baby Jesus in his manger. Most Spanish-speaking countries commemorate the kings' visit in a similar manner to Christmas, with children writing letters to the kings for presents and leaving straw for the kings' camels.