Music Club Fundraises for Fire Victims
Mindy Luo, Visual Media Editor
December 3, 2019
The Music for the Soul Club hosted a fundraiser at the Moraga Farmers' Market on November 24 for victims of the recent Kincade Fire .
Run by senior Kate Ye, Music for the Soul brings together orchestra students to support different organizations like the Benioff Children's Hospital. In the past, they have played for retirement homes and the Farmer's Market.
Ye's goal was for the club to raise $1000, utilizing the Farmers' Market as their kickoff event. "We're so directly affected by the Kincade Fire, with the power outage and stuff, so I really wanted to raise money for this issue and fund towards the victims who are affected in the fire especially with all the damage of the buildings and infrastructure," said Ye.
The club practiced together outside of their regular band classes.  "We've been doing String Quartet music and we also pulled some more orchestra music and did some of the Pops music like Harry Potter. We recycled a lot of this music and it's been really fun," said Ye.
The club members prepared many solos and group performances to fill up the 4-hour-long Farmers' Market event.
"I'm really proud of everyone, like, coming in early. It was really, it was cold in the morning and everyone just, like, put together this group effort and it's really special that, like, [in] such a dangerous time where all these fires are occurring everywhere, still as a small group we can make a little effort and push it out for a more wider like appreciation for music," said Ye.
While many club members were happy to be playing music for a good cause, they also found the Farmers' Market community environment itself to be enjoyable. "I think music is very impactful and especially just when everyday life you never know what somebody's going through and I think the fact that we were able to bring music and other people's lives and make them feel better is amazing," said senior Angie Louie, a 4-year club member.
"I feel like it's a special club for me since you get to know people who really care about music and then you get an opportunity to play music with them," said freshman Phillip Mun.
About the Writer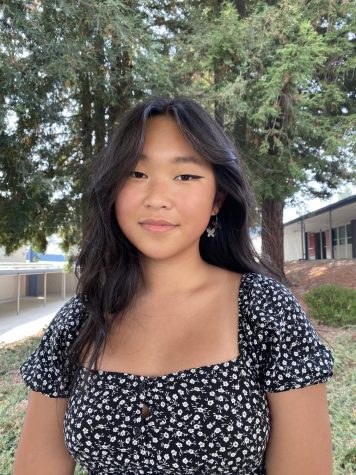 Mindy Luo, Visual Media Editor
Senior Mindy Luo has spent her high school career utilizing her artistic skills as a vehicle for her commitment to various social justice movements.

Luo...