Campolindo Tops Acalanes Despite Disqualification
Despite COVID-19 protocols, a smaller crowd in the stands, and a player disqualification, the varsity football team beat Acalanes 28-13 on March 26.
Senior Jacob Griessel, quarterback and wide receiver, attributes the team's victory to their game plan of "running the ball and dominating the time of possession."
"This allowed us to keep their offense off the field, and it also allowed us to hit some big passing plays to our receivers," said Griessel.
"I think that the entire offensive line did a great job blocking, and Dillan Thoms ran the ball really well while having to handle a lot of carries. [Senior wide receiver] Joey Schmidt and [senior running back and wide receiver] Max Heffernan had some really big plays for the offense by scoring touchdowns and also putting us in a position to punch it in on the ground. The entire defense also did a good job stopping their offense and forced some big turnovers," said Griessel.
In the 3rd quarter, however, there was a disqualification of junior Tyrone Tuavale. Tuavale plays as a linebacker, offensive lineman, and defensive linemen. He will not be able to play for the rest of the season.
"The 3rd quarter was an intense quarter that led to some intense events. I was on edge the entire game, and I think I can say that for everyone," said Tuavale.
Junior Leyton Allen, on the other hand, thinks Tuavale "should not have been disqualified."
"My understanding of what happened is that a fumble occurred, and #59 [Tuavale] was on top of the pile. When the pile got up, a player pushed #59, #59 then went on to hit the player's face mask because he believed the push was unnecessary. Both players were in the wrong and offsetting, personal fouls on both players were good enough, after an incident that was initiated by the other team," said Allen.
According to Griessel, "Tyrone is 1 of the hardest working guys on the team, and he carries himself very well" and "that in the moment, with all the emotions going on in the game, a lot of people would've reacted in a similar way to being hit late."
"It is unfair that it cost him the rest of the season, and I think that the suspension should've been shorter because of the shortened season," said Griessel.
Due to social distancing protocols, players and attendees were required to enter the arena at varying times. The players were cheered onto the field 1st, followed by a small crowd of people consisting of parents, cheerleaders, Sports Medicine students, and select football alumni.
This year, the 'Red Sea', where students sit during games, could consist of only 7 people due to COVID-19.
As a result, the once highly anticipated rivalry game had a "completely different feeling" this year according to Allen.
"The student section stands and is very loud the whole game, as it pumps up the parents, cheerleaders, and team. But this game, it felt a little empty. I am, however, extremely thankful that I got to go and watch my best friends beat Aca[lanes]," said Allen.
Despite the limited crowd size, students still found a way to support their team by utilizing an open space on the hill behind the stadium to watch the game from afar.
"There were a good number of people at the hill cheering on especially because the game was a big game against 1 of Campo's biggest rivals. But most people were in their own groups watching, trying to social distance from everyone else," said junior Mathilde Gourlin.
While the players were not consistently social distancing or wearing masks, the crowd followed safety procedures.
"I think that Campo did a really good job of following the protocols. Families were sitting together, with masks on, and other families were 3 feet away, still cheering with friends. Even though masks were required and not ideal during a football game with cheering, Campo seemed to make the best of it," said Allen.
According to cheerleader junior Maya Gentry, the "games are as safe as they can be without completely eliminating them" and "most people in the audience wear masks and follow social distancing guidelines."
"I know that the cheerleaders wear masks the entire game. I'm not entirely sure what the rules are for the football players. They do not wear masks and obviously do not social distance, but they do get tested for COVID weekly," said Gentry.
About the Writer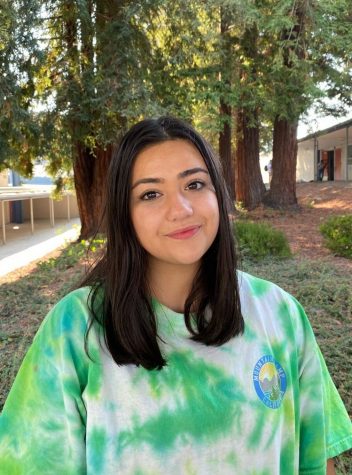 Mia Jay, Business Editor
Senior Mia Jay has been a writer for La Puma for her entire 4 years at Campo and is currently the business editor.

Jay has been dancing at the California...